Video Tape to DVD as low as $7.95 ea.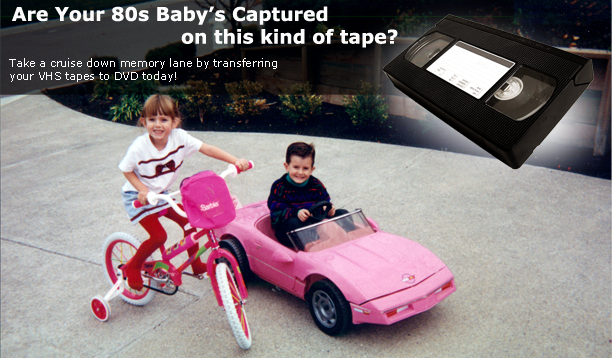 At Denevi Digital Imaging we specialize in preserving your video tape to DVD. Share those special moments captured on video with your family and friends for generations to come.


Quantity
1-3 Tapes
4-9 Tapes
10-19 Tapes
20+ Tapes
Sale
$12.95
$11.95
$7.95
$7.95



reg. $14.95
reg. $12.95
reg. $7.95
reg. $7.95

Quantity
1-3 Tapes
4-9 Tapes
10-19 Tapes
20+ Tapes
Sale
$14.95
$12.95
$9.95
$9.95


reg. $19.95
reg. $17.95
reg. $12.95
reg. $12.95


*Current Sale Prices Valid thru 7/31/2013.
At Denevi's all video tape conversions are done in house (nothing is ever shipped from our facility) and we will make the transfer process as easy as 1, 2, 3!


1. Gather Your Tapes
(Estimate Your Order Here)
2. Submit Order Online
3. Ship Your Order

Digitally mastered transfer
Archival DVD
Chapter Marks
Archival Poly Case
Orders archived for 1 year protecting you against damage or loss
Vinyl Case with Thumbnail Scenes printed on the cover
BONUS: ArcSoft  ShowBiz DVD editing software, a $99.99 value!
Digitally mastered transfer
Archival DVD
Motion Thumbnail
Scene navigation
Chapter Marks
Title on your DVD
1 yr back-up
At Denevi Digital Imaging we use the most advanced technology to transfer your video tapes. Our video transfer service can convert your tapes to DVD. Our motto is "Preserve your precious memories before they fade away!" and at Denevi Digital Imaging you don't have to sit back and watch as your keepsakes deteriorate

How safe is it to send my video tapes in the mail?

This is the number one question our customers ask us. Being in the video transfer business for as long as we have we know the importance of your video tapes. It is extremely safe to send your video tapes in the mail; however, we do have a couple tips to assure peace of mind.
Use a credible shipping company (FedEx, UPS, USPS) and be sure to get a tracking number for your package (this way you can track your package from the moment it leaves your hands, until the minute it is received in our lab).
Make sure you pack your video tapes in a box/bag with plenty of padding (whether it be popcorn, newspapers, or your old gym socks).
Be sure to include your name, address, and telephone number with your video tapes.
Do I have to rewind my video tapes before sending them in?

Be kind, please rewind does not apply here. Let us do the work for you; just send us your tapes as they are. No rewinding, no dusting, no labeling necessary!

You mentioned additional formats, what are these and why would I want them?

Within the last decade digital has been ruling our lives. Today the ability to share information via social networks (Facebook, Twitter, Youtube) is becoming more and more important as is the ability to create digital backups of everything we own. Here at Denevi's we want to make it easy for you to not only relive your memories captured on video tape but to make it easy for you to share those memories with your loved ones. Having your video tapes converted to an additional format makes these files more accessible. For example, if you would like to upload your video of Joey's 1st Birthday to Facebook we could supply you with an MPEG4 (the preferred media type for uploading to YouTube) to make the process easier. Or if you would like to edit your video tapes on your own computer at home, we can convert your video tape to a digital file and transfer it directly to your hard drive. Digital files are considered an extra services and the formats available are: MPEG4, MPEG2, Quicktime H264, Quicktime Apple Intermediate, AVI, Quicktime Pro Res 422, and Quicktime Pro Res 422 HQ.
Don't know what Facebook, AVI, or MPEG4 is? Don't worry, DVDs are sufficient for about 85% of our customers.
I have a video tape, but I don't know if there is anything recorded on it, what should I do?
Just send them on in. Before we transfer any of your tapes, we will time each one. This allows us to determine if you have blank, damaged, or untransferable tape.


What do you mean my tape is untransferable?

Every once in a while we will receive video tapes that cannot be transferred. This could happen for many reasons but the most popular reason is mold on the ribbon of the tape. video tapes are extremely susceptible to the elements so if they are exposed to over excessive moisture this could damage the video and make it not transferrable. If video tapes are sent to us and we are not able to transfer them you will not be charged for this tape. We will mark the video tape as such and send it back to you.


My video tape is broken, can it still be transferred?

The short answer is yes. Sometimes video tapes get broken, the ribbon breaks off the spool, or the tape just got into the wrong hands (Spot, thought it was a chew toy?). For an additional fee we will fix your broken tape and then transfer it as normal. If for some reason we cannot repair your tape (see question above) we will send you the tape back and mark it so you know why it was not transferred.


Do I have to number my tapes?

No, we try and make the transfer process easiest on you so just send us the tapes as they are and we will take care of the rest!


I only have 10 minutes recorded on my video tape, will the full 2/6/8 hours of the video tape all be transferred?

We will only transfer the recorded portion that is on your tape, so if you only have 10 minutes recorded, only that 10 minutes will be transferred.


I have several video tapes that are only a few minutes each, can all these tapes be transferred on one DVD?
If you have more than one tape, we can combined multiple tapes to one DVD. (this is of course assuming the combined total is less than two hours).


My video tape is in PAL, can you convert it to an American format?

Yes, if you have a tape that is in PAL we can convert it to a DVD in the NTSC format for an additional fee.


Can you transfer copyrighted material?

Unfortunately we cannot transfer any copyrighted material.


Do I get my tapes back once they have been transferred?

Absolutely! We will send you your video tapes back with your DVD order.